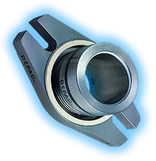 We back our products with the Industry's only 2-Year Warranty!

Who is looking out for you?

In the complexity of production cycles, possible interruptions or shut downs of production, as well as replacement or repair of single components such as a mechanical seal can result in enormous expenses.

It must be realized that the interests of pump/machine manufacturers are not always the same as those of their customers. Manufacturers often choose components that are not the best for the application. Reasons for this are purely economic. The spare parts market for the equipment is so lucrative it has created whole industries dedicated to satisfying the "after-market" demand.

We help you make the right choice!

Within our product range, DEPAC offers the most advanced design seals. Due to market demand, we also manufacture old designs similar to our competitors.

DEPAC's advanced stationary and premier balancing design insures long life and is thus backed by a 2-year warranty.