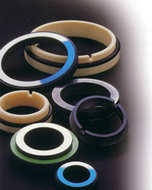 A mechanical seal consists of several components such as the rotating part, the stationary part or mating ring and the gland. The replacement market offers, besides the actual seals, a variety of glands in different designs and measurements for the equipment in use.

Taking this into account and to offer the customer and alternative to his existing parts, DEPAC offers a large range of stationaries. The selection of an optimal mechanical seal asks for a corresponding selection of the right stationary.

After the selection of the optimal stationary, it is then possible to select a new gland or adapter, which are listed below.